Get the latest update on the snow status at

00989353836810
Book a room at Dizin Tourist Hotel at +982188681167
It's absolutely mind-baffling that Iran, this land of peace and security, that is home to the hottest places on earth in its deserts, has almost a dozen of amazing ski resorts. And if one was to come up with a list of the most famous and the popular ones, Dizin Ski Resort, Shemshak Ski Resort, and Darbandsar Ski Resort should be at the top of the list. To get to Dizin Resort, you have to take Chalus i.e. 59 road heading out of Tehran form the northwest of the city. It'll be a 140 km mountainous ride and it'll take you around 2 hours to get here. To get to Shemshak or Darbandsar resorts and their hotel i.e Shemshak Hotel, you have to take Babaei Highway and then Lashgarak Road heading out of Tehran from the northeast of the city. It'll be a 70 km mountainous ride and it'll take you around an hour and half to get there from the capital. Now, although Dizin is further away from the capital, it's definitely the best resort in Iran. I have personally been to many ski resorts around the world, but nothing can top my unforgettable skiing experience on the powdery snow of Dizin slopes.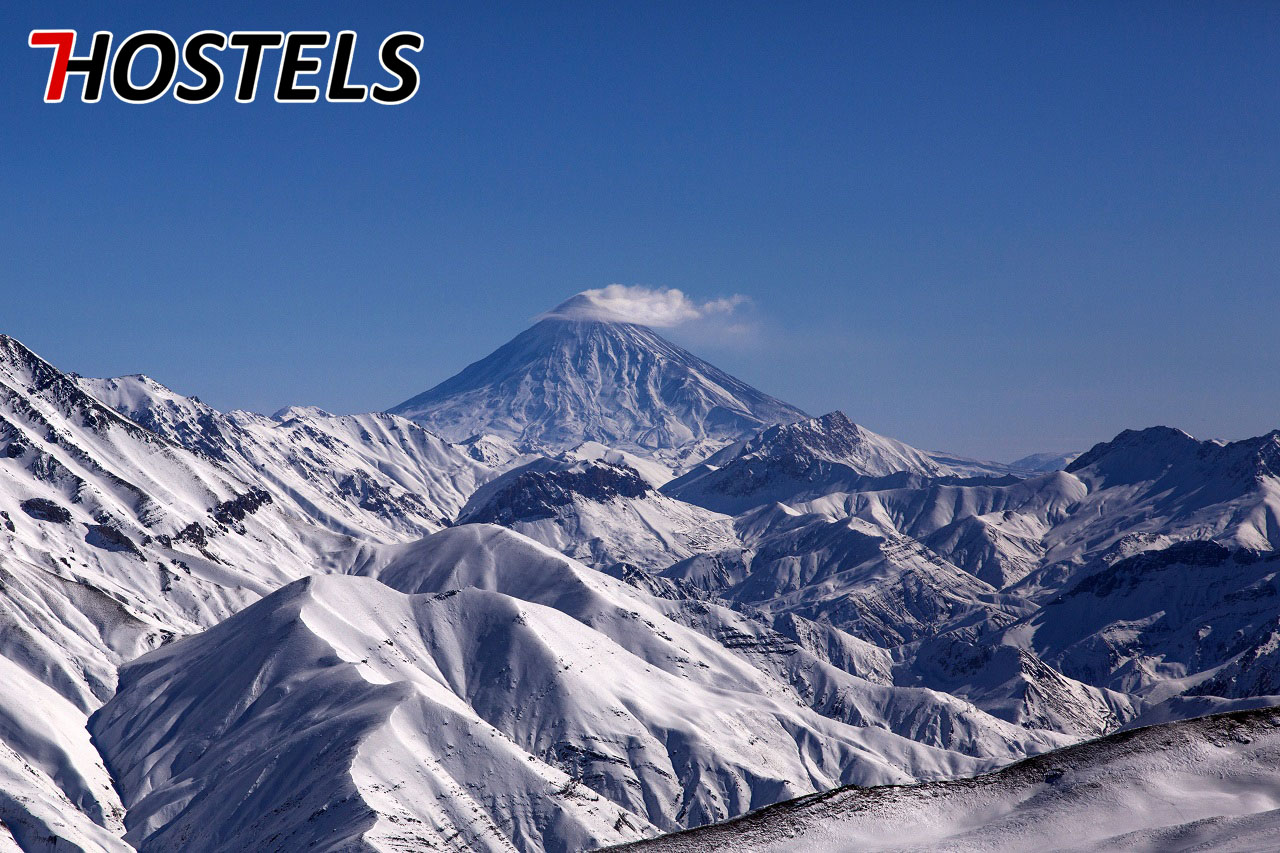 Dizin Ski Resort and the Hostels and Hotels in Dizin
There are
two big, famous and popular hotels
and
one modest but warm hostel
around Dizin Ski Resort. The
most popular and also the most expensive
option is
Dizin Hotel
which is
right next to the resort
. The
location
offered by this
hotel in Dizin
is
most convenient
because It's only
a 500-meter walk
to the room where you can buy your Dizin ski pass
. The
second most popular option
is
Gajereh Hotel in Dizin
and despite being located
at a distance of around 3 km from the resort
, it offers
free shuttle service
to Dizin slopes every morning, and back to the hotel in the afternoon. The
third option
is
Seven Hostel in Dizin
that is the Dizin branch of
Seven Hostels Group in Iran
. This hostel is located
at a distance of 4 km
from the resort and just like Gejereh Hotel offers
free transportation to the resort and back
. There are
both dormitories and private rooms
at this hostel in Dizin and
despite its modest size and budget rooms prices
, its
TripAdvisor reviews
are way
more flattering
than those of the two big hotels.
Renting Ski Equipment at Ski Rentals Around Dizin Ski Resort
Unless you are going to experience ski touring
in Dizin and will need very good and professional equipment to ski off-piste through the mountains of Alborz Mountain Range,
you don't need to worry about anything
. There are
several ski rentals
at and
around Dizin ski Resort
where you can easily
rent your ski equipment
.
Except for the socks and the hat
that are for sale, you can rent all the other items and depending on the number of the items, it'll cost you
from 15 to at most 25 USD per day
. There is
one very important point
that the
foreign tourist should bear in mind
;
Iranians
have their own internationally
isolated banking system
. So, while
they can easily use their Iranian debit cards
anywhere in this country, the
foreign Visa and Master cards are literally useless here
. So,
bring along enough cash!
Dizi Ski Resort Ski Season, Ski Pass and Prices
The
skiing season at Dizin Ski Resort
starts from around
Dec 15 and lasts until around April 15
. The reason for this
relatively long
skiing season at this
mostly hot and dry country
is the
high altitude at which Iran's ski resorts
including Dizin are located.
Dizin resort
is located at
3600 meters above the sea level
, and that's maybe why
the snow on Dizin slopes are so amazingly powdery
. As far as
the ski pass
is concerned, it'll cost you around
25 USD to enter the resort
and you can
ski from 8 am in the morning till 4 pm
at which the resort stops working.
How to Go to Dizin Ski Resort; Dizin Taxi
As for the
transportation to Dizin
, there is
no direct public transport from IKIA Airport or Tehran
to Dizin Ski Resort.
The
first way
, that is also
the
cheap way
, is that you
go to the West Bus Terminal near Tehran's Azadi Tower
, catch
Tehran-Chalus buses
and
get off at Dizin Resort exit
where you'll have to
hitch a 20-min ride to the resort
. The
second way
, that is the
relatively expensive but easy way
, is that you
book your Dizin taxi with Iran Seven Group's Transportation services
.